ONA - Administrator
CHEERY O

All members that participate, can everyone PLEASE ensure that you read all the rules for this challenge
so that you can claim your challenge points. Thank you!
​
Hi everyone and welcome to the September edition of the Tic-Tac-Toe challenge. Hope everyone is doing well in your part of the world. In Tasmania we are s-l-o-w-l-y coming into Spring so I will be glad when we finally leave all the Winter rains behind us!
So how does the challenge work?
On the board below, there are 9 squares with 9 items listed
You choose one row and use the 3 listed items on your layout
The rows can be read, vertically, horizontally and diagonally as shown on the board
Your layout can be any style, any subject or size.
In all instances you can use more than one of named items, for instance, Bird can mean either one bird, or a flock of them!
However you must include at least one of the items listed in the row you choose
You can also use other elements on your layout
Please let me know in this thread which line/items you chose when you post your layout here.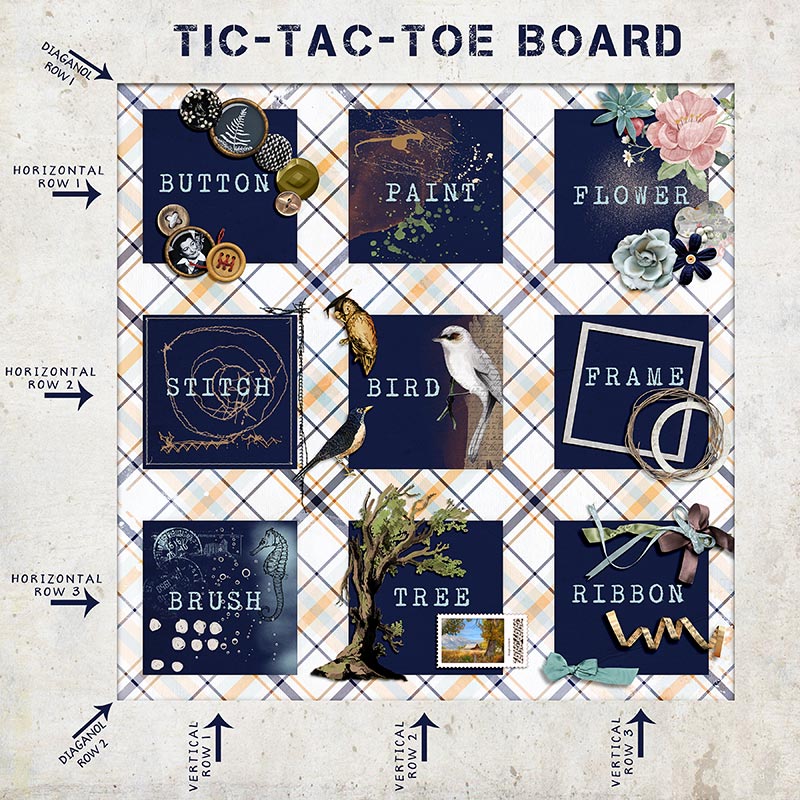 Create with various Oscraps products
​
Here is my page, I used
Horizontal Row 2
which had Stitch, Bird and Frame listed.
Now it is your turn, looking forward to see what you guys create!!
RULES:
-
Select a horizontal, vertical or diagonal row and create a layout using the three items listed - other items can be used, refer to info at the top of this post.
- Please use
80% Oscraps
products that are currently in the store.
- Non-Oscraps products or retired O designer products can be used
whether the designer is selling elsewhere or not
.
- You need to credit all the products used on your layout.
- Your layout can not be used for more than one challenge.
- Your page must be posted in the
Challenge 4
gallery by midnight PST September 30, 2022 and linked back to this thread (see below on how to add your linked layout).
- And do not forget to update the
CURRENT MONTH'S TRACKING THREAD
to be eligible for your coupon.
---
Adding a linked layout from the Gallery to a thread:
1. Upload your layout to the gallery first. In your forum post click the Gallery Embed icon (little camera).
2. This will open your gallery, simply click on the layout you require, then scroll down to the bottom of the screen and click the Continue button.
3. Your linked layout is now in your post, the image will appear once you have clicked the Post Reply button.
Last edited: