Hello Scrappers,
Team member, Kayla, here with our first Rachel Jefferies Color Play challenge! This month's color play product is
Viridian
(which means bluish-green). And boy oh boy, did Rachel rock the blues and greens this month, along with her signature krafts, collages, journal prompts and messy strings!
Every month the color play products will be on sale for a whopping 50% off during release weekend. The sale ends on Monday, March 28th at midnight PDT, so grab everything during this AWESOME sale weekend!
Rachel's Example

​
Examples from Rachel's Team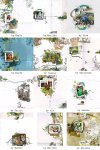 ​
Challenge Requirements:
Create a NEW scrapbook layout using ONLY Rachel's Viridian Color Play Products for March 2022.
Upload your layout to the Rachel Jefferies gallery at Oscraps and list the color play products used in your credits.
For your challenge entry to be counted, you MUST upload your finished layout to this thread. Please link your gallery image in your post as it helps us leave love on your layout and validate your project.
Adding a linked layout image from the gallery to a thread:​
1. Upload your layout to the
Rachel Jefferies gallery
first. In your forum post click the Gallery Embed icon (little camera).​
2. This will open your gallery, simply click on the layout for this challenge, then scroll down to the bottom of the screen and click the Continue button.​
3. Your linked layout is now in your challenge post. The layout image will appear after you click the Post Reply button.​
No double-dipping… your layout must be used for this challenge only, no others.
This challenge will run from March 25 to April 25, 2022.
Prize:
One lucky scrapper will be randomly chosen to win a $5 coupon to Rachel Jefferies' shop.
If you have any questions, please tag me and I will get back to you as soon as possible. I can't wait to see what you create with
Viridian
.
Until then, take care and keep scrappin!
Last edited: