The O is my hOme.
CHEERY O

All members that participate, everyone PLEASE ensure that you read all the rules for this challenge so that you can claim your challenge points. Thank you!
I am excited to be back hosting one of my favorite challenges, the
Artist Inspiration Challenge
. For
this challenge, we are going to let an artist's work of art inspire our layouts. Maybe it's the colors the artist used. Maybe it's the style. Or the subject matter. It's however, you are inspired to create by the image.
For July, we are going to be using the paintings of
Iris Scott
for our inspiration. Haven't heard of her? Don't worry, she is a new discovery to me as well. But when I saw her paintings, I knew that her art is where I wanted to seek inspiration this month.
Here is a mood board I created with a few examples of Ms. Scott's art. However, you don't have to use any of these paintings as your inspiration. (But you are more than welcome to do so.) Click on the link above to check out all her art and see what inspires you.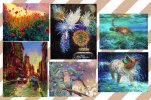 When creating your page, please remember not to include the actual painting on your page as it could be a violation of copyright. Rather just use the image to inspire you.
When you post your page in this thread, please share with us which of Ms. Scott's paintings inspired you
.
Here is my page.

This is the page that inspired me. I was inspired by the colors and all the flowers.

​
RULES:
-
Create a page inspired by the paintings of Iris Scott.
- Please use
80% Oscraps
products that are currently in the store.
- Non-Oscraps products or retired O designer products can be used
whether the designer is selling elsewhere or not
.
- You need to credit all the products used on your layout.
- Your layout can not be used for more than one challenge.
- Your page must be posted in the
Challenge 5
gallery by midnight PST 31 JULY 2023 and linked back to this thread (see below on how to add your linked layout).
- And do not forget to update the
CURRENT MONTH'S TRACKING THREAD
to be eligible for your coupon.
​
Last edited: