Well-Known Member
CHEERY O

All members that participate, can everyone PLEASE ensure that you read all the rules for this challenge
so that you can claim your challenge points. Thank you!
Hi everyone - my name is Gina and I welcome you to a new Artsy / Mixed Media Challenge.
As you all know a Mixed Media page has a variety of mixed mediums such as gesso,
paint (splatters, strokes, blobs, splats), stamps, stencils etc.
For this challenge you need
2 papers.
Open a background of your choice - I used a mixed media paper.
Put the second paper on your background - it should be a patterned or mixed media paper.
Apply a layer mask (Layer -> Layer Mask -> Hide All)

Find a brush of your choice (set the opacity to nearly 77%)
and brush some parts of the second paper
on your background paper.
You can see a small change, but nothing more.
In your layer palette double click on your second paper.
The Layer Style palette will open.
Mark Bevel & Emboss and change the size to 8.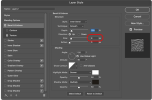 Then mark Texture.
Choose a pattern and change the depth.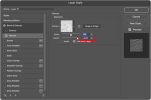 Now it should look something like this.

Now add your elements, paints, gesso, splatters etc.
But a little twist.
I would like to see
only 1 photo - it must be framed and must have a splatter behind it.
For my page I used the new collection
"Pause-ability"
by Vicki Robinson Designs

​
RULES:
-
Create a Mixed Media page by using 2 papers with the technique described and 1 framed photo with a splatter behind it.
- Please use
80% Oscraps
products that are currently in the store.
- Non-Oscraps products or retired O designer products can be used
whether the designer is selling elsewhere or not
.
- You need to credit all the products used on your layout.
- Your layout can not be used for more than one challenge.
- Your page must be posted in the
Challenge 1
gallery by midnight PST July 31 2023 and linked back to this thread (see below on how to add your linked layout).
- And do not forget to update the
CURRENT MONTH'S TRACKING THREAD
to be eligible for your coupon.
---
Adding a linked layout from the Gallery to a thread:
1. Upload your layout to the gallery first. In your forum post click the Gallery Embed icon (little camera).
2. This will open your gallery, simply click on the layout you require, then scroll down to the bottom of the screen and click the Continue button.
3. Your linked layout is now in your post, the image will appear once you have clicked the Post Reply button.
Last edited: