ONA - Administrator
CHEERY O

All members that participate, can everyone PLEASE ensure that you read all the rules for this challenge so that you can claim your challenge points. Thank you!
​
Hi everyone and welcome to May's Creative Techniques challenge, I hope you all join me this month to have some blending fun!


One of my favorite things to do is blend several papers together to create my own unique background. For me, blending together just the parts of a paper that I really like is like painting a picture. Add some blending to the mix and you end up with something that is totally yours.


If your program can use layer masks then you can follow along. For those whose programs don't have this function then I am sorry, hopefully you will be able to use some blending or filter effect to blend/merge some papers together to create your background.
So let's get started:
These are the papers I am going to use, they are all from

These are the steps I used:
1. Moved all the papers I was going to work with into Photoshop
2. Checked that my Foreground colour was Black/Background was White.
3. Then applied a Hide All Mask to all of the paper layers (hold down the ALT key as you click the mask icon)
My layers looked like this:​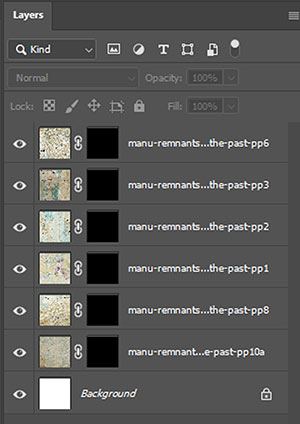 ​
4. Changed the Foreground colour to White/Background to Black
5. Selected a soft brush, Airbrush Soft and lowered the opacity of the brush to around 15%
6. I then went to each layer mask and 'painted' back the part of the paper that I wanted to be visible. I clicked in random areas and to 'show' more of the paper I simply clicked in the same spot a few times. (Remember, if too much comes through you can always switch the brush colour to black and then hide some of the paper again.)
My layer panel looked like this:​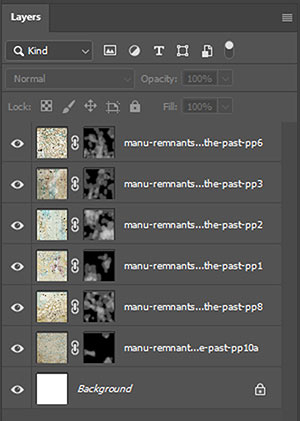 7. Started playing with the blend modes for each paper. Changing the blend modes can really change the look of how they all blend together.
8. Kept moving between the layers until I was happy with what I was seeing on my screen.
9. In Photoshop, once you are happy with it, use the Ctrl+Shitft+Alt+E keys to merge the papers together into one layer. DO NOT use the Ctrl+E command to merge the papers down (using this command will muck up the blend modes you used).
(
Unfortunately PSE doesn't have this facility so you can leave your layers as they are. But you can also try creating a copy of your paper layers and then merging those together with CTRL+E and then playing around with the blend mode as I did in the next step.
)
10. Once again I played around with the blend modes on this merged layer, these can be quite stunning when applied with the other layers beneath it.
My layer panel and screen picture looked like this:​
11. For non-Photoshop users, experiment with different ways of merging your papers together using your programs own effects/filters/blend modes.
Now go ahead and scrap your photos etc that you want to use.
Note:
After I finished with my own scrapping, I felt that paper had too much yellow in it, and that the cluster and picture didn't really stand out because of it. To fix this I used another paper from Manu's paper pack, a much darker one, and moved it to the top of my paper layers as shown below: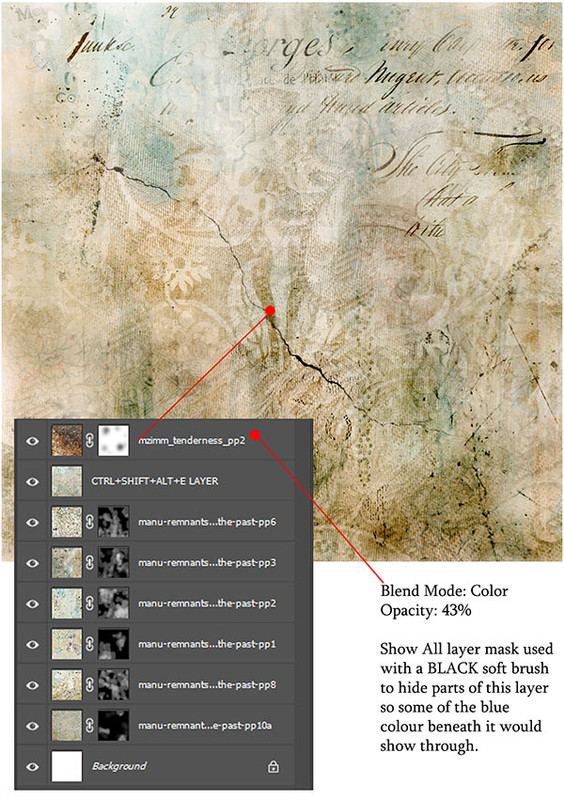 I changed the blend mode to Color and reduced the layer opacity to 43%, and then applied a Show All layer mask and using a black brush with an opacity of around 27% I just painted the parts of the paper I wanted to hide so that some of the blue from the bottom layers showed through more.
Remnants of the Past:
(Credits in the gallery)
As always I look forward to seeing what you all come up with.
RULES:
-
Blend a minimum of THREE (3) papers to create a background for your layout, use the tutorial above for Photoshop or your own program/application if you do not have Photoshop.
- Please use
80% Oscraps
products that are currently in the store.
- Non-Oscraps products or retired O designer products can be used
whether the designer is selling elsewhere or not
.
- You need to credit all the products used on your layout.
- Your layout can not be used for more than one challenge.
- Your page must be posted in the
Challenge 5
gallery by midnight MAY 31 2022 and linked back to this thread (see below on how to add your linked layout).
- And do not forget to update the
CURRENT MONTH'S TRACKING THREAD
to be eligible for your coupon.
---
Adding a linked layout from the Gallery to a thread:
1. Upload your layout to the gallery first. In your forum post click the Gallery Embed icon (little camera).
2. This will open your gallery, simply click on the layout you require, then scroll down to the bottom of the screen and click the Continue button.
3. Your linked layout is now in your post, the image will appear once you have clicked the Post Reply button.
Last edited: