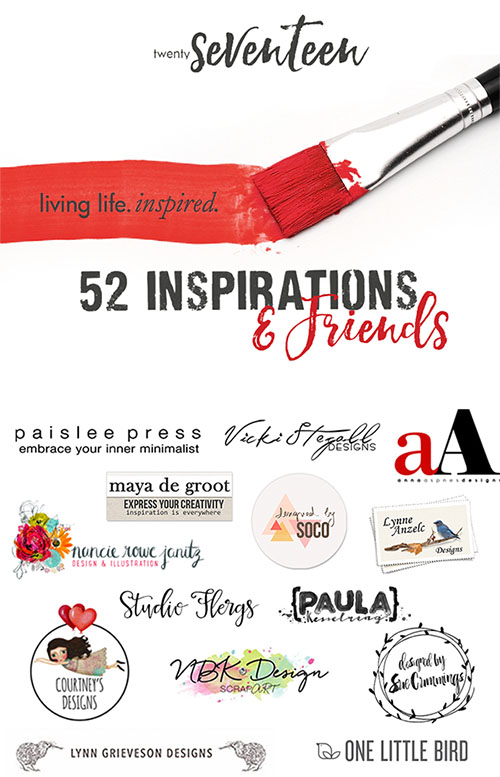 I find this time of year to always be abuzz with the excitement of new beginnings, new potential, new hope, new plans and a renewed sense of commitment and, if we are lucky, creativity. This year is no exception. In fact, as I look forward to the start of this new year of 52 Inspirations, I am in awe of what I'm about to share with you.
To begin with, it is the 10th Anniversary of 52 Inspirations! It brings me so much joy to have shared so many years creating this legacy together – you all, our subscribers and, for most of those years, Sue and I. This last year, it was just me and, as some of you know, I was diagnosed with Breast Cancer. I am happy to say I am now cancer free, but it was long process and left me occasionally falling behind on releases, but we finished strong in mid December. I also had my third surgery in under 6 months on December 15, so I've run behind on getting 52 Inspirations 2017 into the Oscraps shop. I'm caught up now and I've got the link for you all at the end of this letter, but first, I can't wait to share with you what's going to make this year the biggest and best yet for 52!
One of the things my journey with cancer taught me is that certain things matter more than anything else. One of those things is connection with friends and loved ones. So, I thought, what better way to celebrate our 10th Anniversary than to do it with friends – both old and new…..
… it is with great pride and honor that I announce the release of 52 and Friends. It's 52 Inspirations as you've always known it, only better! This year we are adding many of the best designers in the industry all teaming up to bring you guest designs throughout the year. I am still adding designers, but so far have signed on the following amazing designers:
Anna Aspnes, Angie Young Designs, Ange Designs,
Courtney Designs, Designed by Soco, Designed by Sue Cummings,
Lynne Anzelc, Lynn Grieveson Designs, Maya de Groot,
Mediterranka Designs, Mommyish Designs, Nancy Rowe Janitz,
NBK Designs, One Little Bird, Paislee Press,
Paula Kesselring, and Studio Flergs!
With this many incredible designers already on board there is certain to be something for everyone. This year you can look forward to everything from Artsy to Minimalist design including kits, elements, brushes, templates, masks, journal cards and more! You'll get to experiment with different styles, trends and techniques from a variety of very talented designers! And, it's all included in your one time payment subscription. It doesn't get better than that!  Be sure to subscribe now to take advantage of Early bird pricing.  Early bird pricing ends on January 31, 2017.
When you subscribe, you will also receive the following bonuses:
25% off all Vicki Stegall Designs, both past and future, for the duration of 2017
$10 Coupon Code to Vicki Stegall Designs
1 Free Oscraps Collaboration kit of your choice
Exclusive 52 Inspirations Facebook Group
Videos and Tutorials
Monthly Challenges

Helping to support breast cancer research – A portion of the proceeds will go to breast cancer research through the Breast Cancer Research Foundation –

https://www.bcrfcure.org/
This year looks to be the biggest and best yet! And, I can't wait to get started!
Won't you join me, and my friends, for 52 weeks of inspiration and awesome designs?