Well-Known Member
CHEERY O
Sharing with you one of my latest discoveries - Remini photo enhancer that can work magic on your old blurry photos.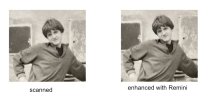 It exists as a phone app or as an online editor, it is FREE and there is NO editing required - just upload the photo, click the button and voila...
I particularly find the photo app super convenient - I scan a photo, open Remini and see the magic happen. It doesn't work 100% of the time but in about 80% of the cases it does... I can do other restorative work in my photo editor - like remove scratches, add defining outline to clothing, background elements etc...