Sometimes life gets in the way and we find that we just don't get time to create. When we do finally get a chance to sit down at our desk, we find that we just can't get started. I recently found myself facing this type of creative block. I am going to share with you how I moved past it while using supplies from 52 Inspirations and Friends.
The tips I am going to share will work for any set of supplies you find inspiring. I chose to focus on 52 Inspirations and Friends because I personally hate letting supplies from a subscription build up. I know that I get excited when I see the new items in each kit and that, in and of itself, is sometimes all the spark I need to get started. The supplies from the recent 52 Inspirations kits were no exception!
Tip#1: Choose a supply you find challenging to use.
I chose to use a cherub from 52 Inspirations kit #6. While I don't hate cherubs, they are not usually a motif I would readily seek out when creating a scrapbook or art journal page.
Tip#2: Select word art to drive the theme or story of your page.
If I am experiencing creative block while making a scrapbook page, the story and the journaling don't always come easily to me. I am likely to just stick with the Who, What, Where and When of the story. Word art can serve as a creative writing prompt, helping to spark a deeper story. In my art journal, word art can help drive the motif of the page while keeping me from having to come up with a quote to use. I selected several quotes for today's art journal page from 52 Inspirations number 7.
Tip#3: Let the kit guide your color palette.
Choosing the colors for your next project are simple if you choose a kit to guide you. There are three basic colors within this kit choice: red, blue and yellow. This makes mixing in product from other kits and supplies a breeze if I stick with the color guidance from the main kit.
As an added bonus, the supplies from a kit subscription can often be easily mixed and matched together. 52 Inspirations number 9 has several of the same colors as number 8, making them a perfect fit.
I also chose one paper from a kit in my stash. I loved the floral motif of the black and white paper from Vicki's Desi kit.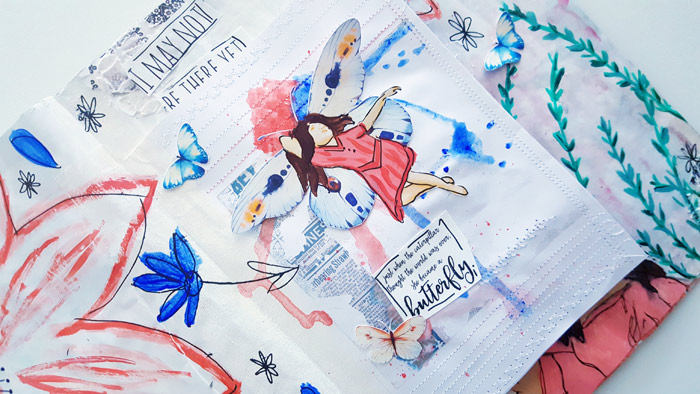 Tip#4: Practice a new Technique or Give Yourself Permission to Alter an Item
I did both on my art journal page. I chose to experiment with acrylic paints. I chose to alter the cherub, turning it into a butterfly fairy.
I also added a flipbook style insert to the middle of my art journal page, practicing some of the stitching from my new sewing machine.
Tip#5: Consider using your kit to finish an incomplete project.
We all start and stop projects. Sometimes we lose interest. Other times, we get to a point and can't go on. Something just isn't working right. Try using your new kit to complete that project. I chose to finish a drawing that had been sitting on my desk for over a month.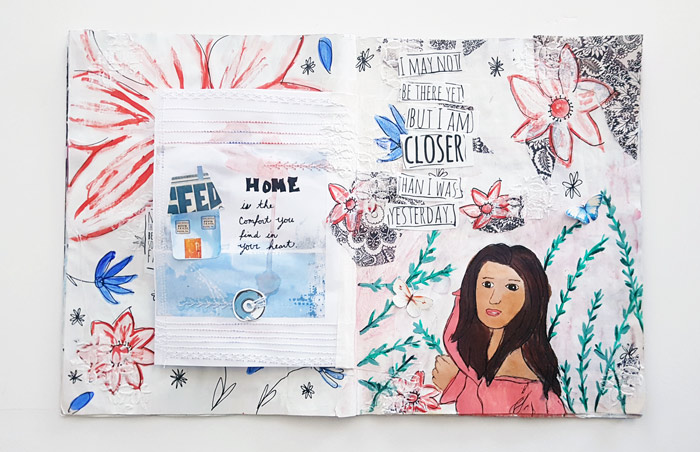 Using a new kit was the starting point I needed to remove my creative block. It also helped me complete an older project. What do you do to lift your own creative block? Share your tips in the comment below.
– Christy