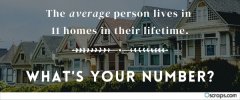 I am so far below average for this question, I am not even close. I have lived in three permanent homes, my childhood home, a teeny-tiny condo when I was first married, and we have been in this house for 26 years.
I have lived in three other places when I was in college: dorms my first year and a couple of really awful houses that were great for having parties but not much else. One of the houses was condemned the year after we moved out. Guys moved in after us and I am sure that whatever we girls tried to do to keep it clean and tidy didn't continue with them. heh
When my kids were little, they shared a room and by the time they were 4 and 6, they were done with that idea. When it came down to moving or adding a level, we ended up with a second story and the "kids" (23 and 25) are still up there.
How many homes have you lived in?
if money was no object, would you prefer to move or add on?​