Hi everyone. I'm excited to host the May 2021 challenge.
Recently I looked at the "today is national day" list for May. Almost every day was related to food. There is Cinco de Mayo, Hoagie Day, Coconut Cream Pie, Pizza Party and so many more. The challenge this month is to make a layout about food. It could be anything from a happy moment, a recipe page or anything in between.
Here's my page and I hope it inspires you, or gives you some ideas for your page.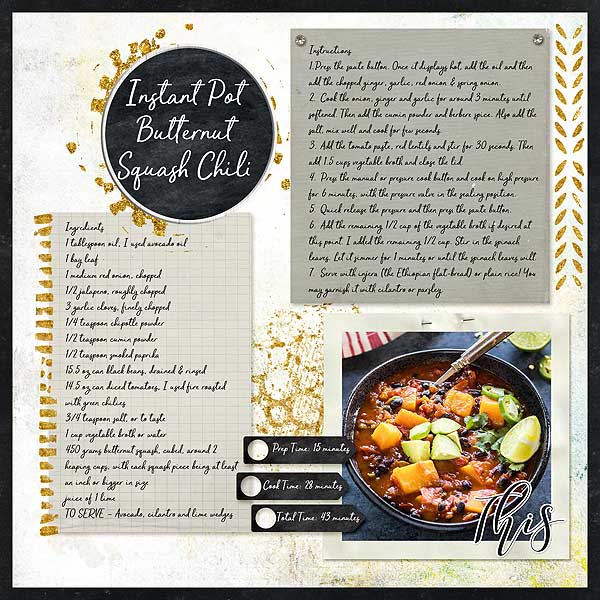 Created for the Vicki Stegall Designs (Momma O's) May 2021 Challenge
I used
Vicki Stegall's Design Forever This Bundle
.
Upload your page to Vicki Stegall Designs gallery, then return to this thread and upload your linked page (Links and How To's Below).
Rules
- Make a layout about anything involving food (recipes, family gatherings, etc)
- Use
75%
Vicki Stegall Designs Products.
- Please credit all products in your layout especially what Vicki Stegall Products were used.
- Post your page in the
Vicki Stegall Designs Gallery
and link your page in this thread for your chance to win a $5.00 Gift Certificate to
Vicki's store
by midnight PST May 31, 2021. (See below on how to add your linked layout.)
---
Adding a linked layout from the Gallery to a thread:
1. Upload your layout to the gallery first. In your forum post click the Gallery Embed icon (little camera).
2. This will open your gallery, simply click on the layout you require, then scroll down to the bottom of the screen and click the Continue button.
3. Your linked layout is now in your post, the image will appear once you have clicked the Post Reply button.
Last edited by a moderator: