Hi! Vicki Robinson here with a video tutorial for you on how to make corrections to your photographs using both the Spot Healing Brush and Content Aware Fill. It's easier than you think to get rid of bits of dust, scratches and other imperfections on your treasured photos! And did you know you that in most cases, you can easily removed unwanted sections of photos!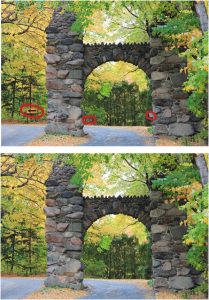 For example, my sister took this photo of a wonderful stone gate, but needed some signs removed.
Of course, there are lots of ways to do things in Photoshop, so sometimes you just have to play to get the look you're going for. Either of these two methods should work well for just about anything you have to remove. I demonstrate in Photoshop Elements 2018, but the steps are the same in the full version of Photoshop.
If you try either of these methods, I'd love to know what you think!
========================
Here's how you can connect with Vicki