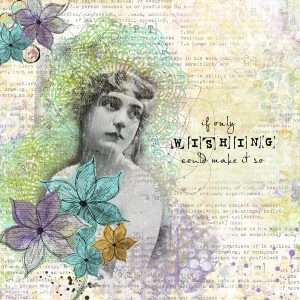 When creating an art journal page, you may have thoughts you want to get off your chest. But if they are negative feelings — or could be hurtful, should someone come across your page, you may want keep those things private.
You have a couple of options when it comes to hiding your journaling. One trick is to actually write on your page and then obscure the writing and the other is to use the regular text tool, but reverse the text so it can't be read.
Hiding the journaling — or incorporating it into your page in the form of scribbles, as I have done on my page — can be very therapeutic, so why not give it a try!! I used Art for the Soul and Portrait Transfers on my page.
If you try either of these methods, I'd love to know what you think!
========================
Here's how you can connect with Vicki