So Happy To Be A Cheery O
CHEERY O

All members that participate, can everyone PLEASE ensure that you read all the rules for this challenge
so that you can claim your challenge points. Thank you!
Hello Everyone!!! Welcome to the Copy Cat Challenge for March 2022! Looking forward to seeing everyone's Creativity!
​
My name is Rhonda & I'm very happy to be your host for the Copy Cat Challenge for March 2022. This challenge is pretty straight forward. All you need to do is Scraplift a layout from the amazingly creative
Britta
[AKA Rollinchen ]. Her beautiful gallery features so many scrapbooking styles to choose from, everything from art journaling & mixed media to white space. I thought her creative and open style would be a fun choice to scraplift. So hopefully you will join me in this challenge and pop over to
Britta's Gallery
, take a look around and choose a layout that simply inspires you to create a page you love.

Can't wait to see how Britta's wonderful gallery inspires everyone to create.


Here is the layout I'm scraplifting : Life is Like a Roller Coaster :


Here is my scraplifted layout : Brave Heart :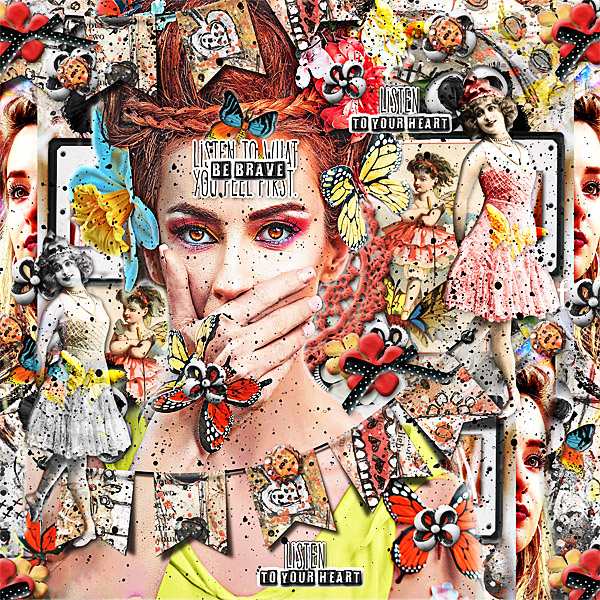 Created for the March 2022 : Copycat Challenge : A Scraplift Of Britta's [AKA Rollinchen's]...

*I was inspired by all the bright colors,black accents & the black & white bold WA : It is also a fun! & happy layout : so I was going for the same idea...fun! bright ! & happy...*

My Credits Unclude :

*The Scary Stuff Mixed Media Kit : Vicki Stegall Designs

*Metamorphosis Butterflies : Crafty Button Design

*Font : White On Black Regular : [the WA I created : "To your heart" & "be brave"]
*Photo courtesy of Miguel Gonzalez : Unsplash [IE important to note : that the 4 largest butterflies are part of the photo & haven't been added by me ]

*Smaller Photo [placed 3 times] : Pixabay : Circa 2020

RULES

:

-

Scraplift a layout from

Britta's Gallery

[AKA Rollinchen ]+ add a linked layout of the page you are scraplifting to this thread when posting your own layout.

- Please use

80% Oscraps

products that are currently in the store.

- Non-Oscraps products or retired O designer products can be used

whether the designer is selling elsewhere or not

.

- You need to credit all the products used on your layout.

- Your layout can not be used for more than one challenge.

- Your page must be posted in the

Challenge #1 Gallery

by midnight PST MARCH 31 2022 and linked back to this thread (see below on how to add your linked layout).

- And do not forget to update the

CURRENT MONTH'S TRACKING THREAD

to be eligible for your coupon.
---
Adding a linked layout from the Gallery to a thread:
1. Upload your layout to the gallery first. In your forum post click the Gallery Embed icon (little camera).
2. This will open your gallery, simply click on the layout you require, then scroll down to the bottom of the screen and click the Continue button.
3. Your linked layout is now in your post, the image will appear once you have clicked the Post Reply button.

​
Last edited: