ONA - Administrator
CHEERY O
The Attachment tool can be used to upload a file directly from your computer, bypassing the gallery.
Limitations to file type and size apply.
File types: pdf, png, jpg, jpeg, gif
Max. size is: 1000px x 1000px 500mb
To use the Attachment tool:
1. Under your post click the Attach files link:

2. Find the file you want to attach on your computer and click the Open button.

3. Image will appear in Attaching area:
A.
Click the Insert link...
B.
Select Full Image (or thumbnail).
C.
Then click Post Reply to finish your post.

Note:
To delete an attachment at any time, use the Delete/Trash icon on the attachment,
in the Attachment area
. Deleting it from your post will not delete the attachment, it needs to be done in the Attachment area.
4. Once you click Post Reply the attachment will show up in your post as shown below.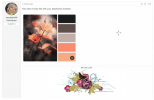 Note:
To replace your attachment or delete, use the Edit link to edit your post and access the Attach file area.
---
As always, if you have any questions about this function please ask away.
Last edited: