Deep Dream Generator has introduced a new AI process to their program, called Text 2 Dream. I've been having an absolute blast learning to use it, and in the process, I've formed a new addiction! I haven't used any of my newest creations on scrap layouts yet but will be doing so very soon.
For anyone who hasn't heard of Deep Dream Generator (DDG), here is a link to my previous thread introducing DDG with samples of the dreams, and the dreams used in layouts:
https://oscraps.com/community/threads/deep-dream-generator.33271/
The new Text2Dream is an AI tool that creates images according to the descriptions you supply. You can create a Dream by using only words, for example in the word prompt, I added this description: wide view long exposure of stream cascading over rocks in a temperate autumn forest with falling leaves at sunrise, cinematic sky, hyper-realistic highly detailed photorealistic.
There are also lists of additional modifiers you can choose and add to enhance your finished image. To the above description, I added these: digital painting, oil on canvas, and colorful.
And here is the result image, using only words. It literally looks like I could have photographed, or painted this scene a few miles from my home in the heart of the Fall season.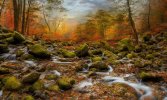 You can also start the Text2Dream process using a starting image, plus word prompts and modifiers. The modifiers comes with a list of various painters and artists which you can choose, or you can write in painters or artists of your choice.
The next two images I created by using this base image, modified by me in PhotoShop:

This is the first Dream I created from the above image:

And this is the second Dream from the same image:

The following Dream I created with the new tool, using a base illustration (which I can't find at the moment, must have deleted the original), and I didn't like the first result, so redid the image, using the one I didn't like as the base, and surprise, surprise, I got a keeper:

This one isn't very realistic, but I love the colors. I used only a description and added an artists name - Hovik Zohrabyan style, wildflower field with rustic barn, trees, pastel colors.

And another one I really like, I used a base image from Pixabay plus description and modifiers:

I've also had some epic fails. I wanted the following photo of the Eiffel Tower with the sky lit up with beautiful fireworks: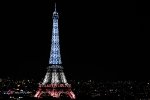 Instead, the new Text2Dream actually turned the tower into fireworks! Not bad, but not exactly what I had in mind.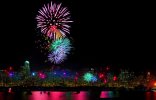 For all of you who are addicted to Deep Dream Generator, be sure to give this new tool a try. If you're new to DDG the previous thread linked at the beginning of this thread will help you get started and then you can try this new tool out for yourself.
If you have any questions about this new tool, I'll try to answer them, although I'm still learning myself since it's only been out for three days. If I don't know the answers, I will find someone who does. ♥