The O is awesOme
CHEERY O
​

​
All members that participate, can everyone PLEASE ensure that you read all the rules for this challenge so that you can claim your challenge points. Thank you!
​
​
​
Welcome to April's Creative Photo Editing Challenge.​
​
This month we are going to play with one group of the Photoshop Creative Filters, the Distort Filters.​
If you are using a different photo editing program, look for a similar filter.​
I took a screenshot of this Filter group!​
Go to Filter- Filter gallery- Distort​
​
​
​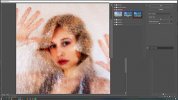 ​
​
​

​
​
For my photo I used the Ocean Ripple filter. Experiment for a good result for your photo! ( use the sliders to get the perfect setting for your photo) There are more to choose from, like the Diffuse Glow and the Glass Filter.​
Create a layout that fits this style well and the result will give you an artistic effect!​
You can use a layermask to enhance the effect even more!​
​
Here is my sample page:​
​
​

​
​
RULES:​
- Use one of the Distort Filters on your Photo Editing software for altering your photo. Use this photo in your layout!​
- Please use 80% Oscraps products that are currently in the store.​
- Non-Oscraps products or retired O designer products can be used whether the designer is selling elsewhere or not.​
- You need to credit all the products used on your layout.​
- Your layout can not be used for more than one challenge.​
- Your page must be posted in the
Challenge 1
gallery by midnight PST April 30 2021 and linked back to this thread (see below on how to add your linked layout).​
​
---
​
Adding a linked layout from the Gallery to a thread:​
1. Upload your layout to the gallery first. In your forum post click the Gallery Embed icon (little camera).​
2. This will open your gallery, simply click on the layout you require, then scroll down to the bottom of the screen and click the Continue button.​
3. Your linked layout is now in your post, the image will appear once you have clicked the Post Reply button.​
​
Have fun!​
Last edited: