Hello aArtists!
It's time for another challenge from Anna Aspnes. The AnnaTeam selects a creative page or
design concept
from the Anna gallery as the 'AnnaLift.' Be inspired, create your own 'AnnaLift,' upload your page to the Anna gallery and include it here in this forum thread. Upload your page by Friday
05.07.21
by 8:00 pm EST with the title, 'AnnaLift. ' One lucky participant will be randomly selected to win a
$5.00 GiftKard
to Anna's shop.
HOW IT WORKS:
On Saturday the AnnaTeam posts a creative concept from the Anna gallery as the 'AnnaLift.' Check out the inspiration and decide what speaks to you. Is it the design, the color, the wordART, or maybe the photo? Then enjoy artfully playing—there is no right or wrong way to ArtPlay.
Choose ONE idea to lift or choose it ALL and lift it completely. Be inspired, create your 'AnnaLift' and then upload your page to the Anna gallery, plus include it here in this forum thread. It would be great if you could link back to your page in the gallery too!
Anna's products mix well with so many kits/designers and Anna welcomes you to include these with your Anna Products on your AnnaLift page.
If you've never challenged yourself to an AnnaLift—just do it!
If you've never posted or shared your AnnaLift—just do it!
If you have time to leave some love for someone in the gallery—do it too!
(Your kind words may inspire and encourage someone!)
Please post your art in this thread and link to the Anna Aspnes gallery to win the $5 giftcard.
In this Big Picture Challenge, choose your style Art Journaling or Artsy Memory Keeping :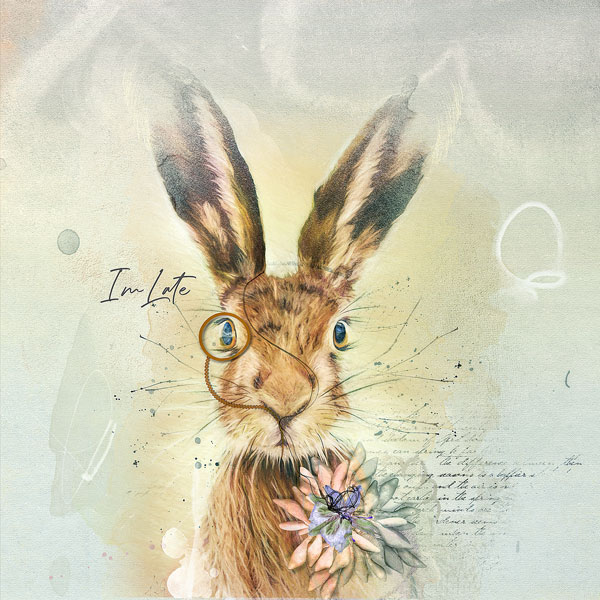 I'm Late by gillie343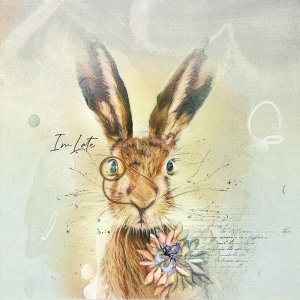 I so enjoyed creating this image, thank you to Unsplash for the image of the Hare.


In I'm Late, gillie343 presents a charming and whimsical portrait of a bespectacled hare. The piercing blue eyes are enhanced by the monocle. Boldly, the Hare stares from the center of the design. The Hare is skillfully blended into the painted ground of pale greens and golds. Scripted text and inky lines generate from the Hare to add to the tension and energy of his thought and style. For a dimensional treat, gilliie343 adds a beautiful boutonniere of peach, blue, and sage. gillie343 creates a playful and stunning design to inspire our artsy journaling.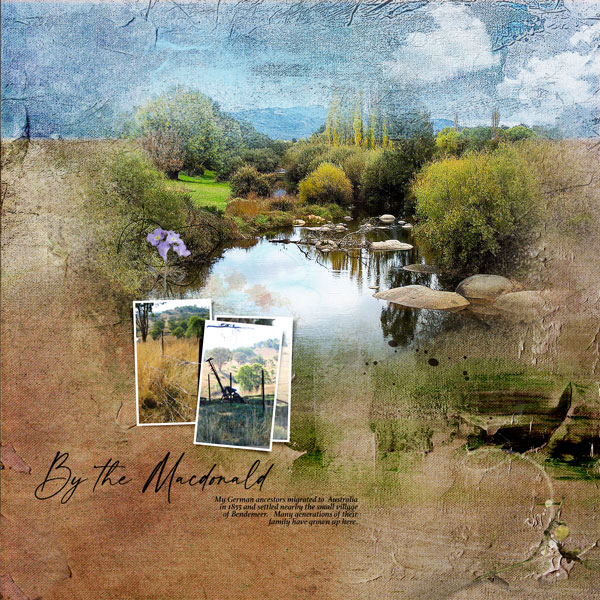 By the Macdonald by Tamsin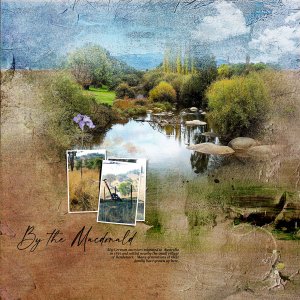 I don't have Anna's Scenic templates downloaded yet so improvised. Enlarged on a fotoblendz by duplicating and rotating to suit and used some frames from an Artsy Layered Template. I had to blend three different papers to get the textured...


In By the Macdonald, Tamsin shares a memory of a gorgeous pastoral scene. A large focal image is placed in the center to spread across the page. The flawless blending sets the image in blues, greens, and warm browns. Textures of soil and grit become a visual treat accented by artsy strokes. Frames contain images that accent and add to the memory. Tamsin creates a stunning design to inspire our artsy storytelling.
Thank you, gillie343 and Tamsin, for sharing your expressive and inspirational artistry.


IDEAS TO INSPIRE: Use ONE or MORE of the following in your AnnaLift layout.
Choose your own theme and document a memory or a feeling.

Use a large image to dominate your canvas.

Digitally paint your canvas with layers of color, texture, and brushstrokes.

Use subtle colors or bold to express your self.

Add buttons or stitchez, frames or flowers for dimension.
Products to Inspire:

Upload your page by Friday at 8:00 pm (EST) with the title, 'AnnaLift ' and one page will be randomly selected to win a $5 GiftKard to Anna's store. The winner will be posted here on SATURDAY.

Hint: Multiple entries are welcome! Use a separate post - number for each!

We hope our AnnaLift inspires your creativity. You know we always LOVE to see how you ArtPlay.

Thanks for ArtPLAY-ing with us!

Anna and the aA Team