Designer + Brush Queen + Mac Guru
Designer

​
May 13 2023 update.
I commented below (a few minutes ago) about my surprise and disappointment that there has been so little participation in this challenge so far — and included an explanation as to why I posted this particular challenge right now. I'll let you read it for yourself, but
@scrap-genie
commented to the effect that it can be hard to know what to scrap about yourself. That got me to thinking, and I've written a
blog post
that might help a little bit — there's also a f
reebie download with 35 prompts
for scrapping about yourself.
Because this is so important to me, this month I'll be offering
TWO $5.00 coupons
in my challenging drawing! So, I hope you'll participate, and feel free to leave your comments on the idea of scrapping about yourself — including anything you think might be holding you back. I'd love to hear from you!
==========
Original Post:
Welcome to my May Challenge!
Lately, I've been thinking a lot about why, as scrappers, we forget to scrap about ourselves. It occurs to me that as women, we tend to "do" for others before we ever "do" for ourselves. I don't mean to generalize or oversimplify — or even speak for others — but my own observations are that many women tend to put the needs of others ahead of their own. That's particularly evident in the scrapbooking world where galleries are full of pages about children and grandchildren and major life events, but very few about the person creating those pages.
Here's my own page - tons of baby photos and some scanned memorabilia. My dad's parents owned a "soda shop" in Brooklyn, New York when I was born and they offered a Baby Vicki Jean Sundae in my honor! How cute is that —and how special is it that I have that actual hand-drawn sign hanging up in my little office? I used my own
My Life Story Templates
(the big bundle is on sale for 56% off this month!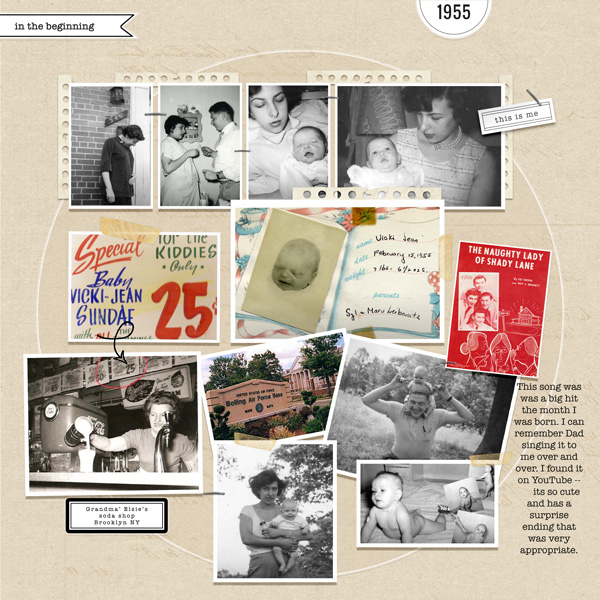 Documenting my own life story! Tons of baby photos and some scanned memorabilia. My dad's...
I thought you might be interested in this short video on how the My Life Story templates came to be.
So, that's my challenge to you this month — create a page about yourself. It doesn't need to include your picture, it just needs to be a page about you!
Prizes!
One lucky scrapper who completes this challenge according to the Challenge Requirements will be randomly chosen to win a $5.00 coupon for my shop
All other challenge participants who meet the Challenge Requirements below will receive a $2.00 off $10.00 coupon to my shop valid for one week.
If you complete all of my 2023 challenges, you could win a $20.00 coupon for my shop! Those details are here.
The May Challenge
Create a page about YOU
and use my free "This is Me" sticker
on it somewhere.
Challenge Requirements:
This challenge will run until midnight California time (Pacific Time zone) on May 21, 2023. In order to be entered into the $5.00 drawing and/or receive your $2 off $10 purchase participation coupon, you MUST upload your finished layout to my gallery and link to it in this thread before the deadline
Create a NEW scrapbook layout using Vicki Robinson Designs products. The page must be about YOU and use my free "This is Me" sticker on it somewhere.
Upload your page to the Vicki Robinson Designs Gallery, be sure to list all of the products you used in the credits area.
Instructions for uploading to the gallery and posting back to this thread are below.
By the way, did you know that
subscribers to my newsletter,
get monthly coupons that can be used multiple times for even
more
savings on my products? And that's in addition to freebies, scrapbooking tips, and a heads-up on my new releases and tutorials! Truth!
If you have any questions, please tag me and I will get back to you as soon as possible. I can't wait to see what you create!
--------------
Adding a linked layout from the Gallery to a thread:
Upload your layout to the gallery first. In your forum post click the Gallery Embed icon (little camera).
This will open your gallery, simply click on the layout you require, then scroll down to the bottom of the screen and click the Continue button. Your linked layout is now in your post, the image will appear once you have clicked the Post Reply button.
We also have a video tutorial if you prefer.
Last edited: