​
Updated May 3, 2022
Thank you all so much for participating in my April Challenge! It's so great to see so many wonderful pages! In case you haven't noticed, beginning this month (May), I've got a second "
Get Creative" challenge
hosted by Esther. I hope you'll join that challenge too!
Please join me in congratulating Amy —
@yakyma
— the winner of the $5.00 coupon drawing! I love her page and that quote is just wonderful!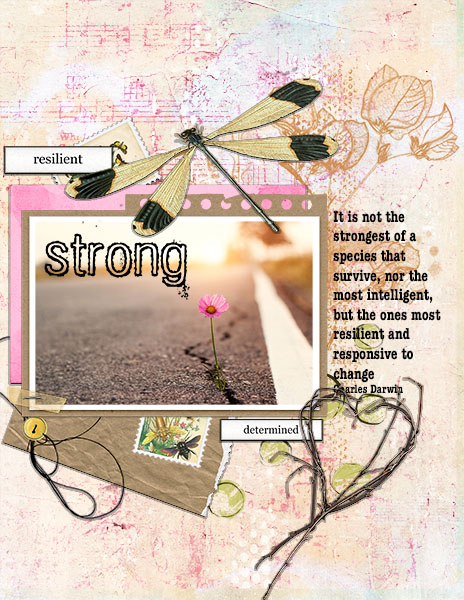 Vicki Robinson April 2022 Challenge
==============​
If this is your first time joining me for a challenge — welcome! I'm so happy you're here! If you've joined my challenges in the past, welcome back!
To be eligible for the
coupon drawing
(details below), you must post your page no later than midnight California (Pacific) time on
April 30th,
however, you may create a page using the challenge guidelines at any time.
When I am starting a digital scrapbooking page, I typically start with a photo and build the layout around that. When I start an art journaling page though, I generally don't have any real plan. I drag a bunch of elements (chosen at random — whatever appeals to me) onto a blank document and start to play with their arrangement. I knew I needed to use one of this month's Story Starters, so I added them, too. As many of you also might be, I'm feeling the weight of everything that's happening in the world right now and it can start to feel like a breaking point is near. But look at the twisty twig thingy — there's a message there that jumped out at me. There's hidden journaling beneath that butterfly cluster where I've recorded some thoughts. If you're interested, I have two short videos on my YouTube channel with ideas for hidden journaling. They are
here
and
here
.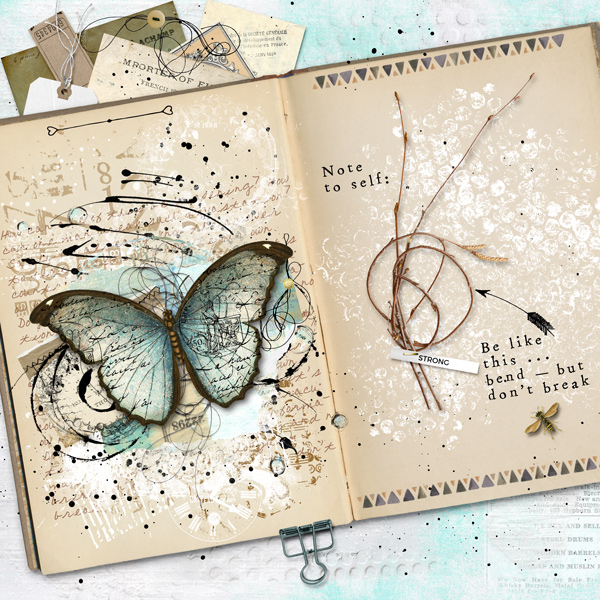 There's some self-encouraging journaling hidden under that butterfly on the left (which is a...
My page uses Artful Expressions 03 along with the April Story Starter Freebie. Because I feel like my pages are not complete without lots of brushwork, I also used brushes from Arty Brushes 01, Bubble Wrap Brushes, Inky Marks 01, and Collage Brushes 01.
I've put together a special
Sampler Set 04 of 8 brushes that are in those sets — exclusively for you — for only $2.99
— during this Challenge period
.
All
four of the full brush sets are on sale for 40%
o
ff during April 2022 — so if you like the samples, you may want to grab the full sets (they are linked in the Sampler product description).
BUT
this
Sampler Set 04
will
not be visible in my shop
until next month and this $2.99 price is
just for you during April.
Challenge Rules​
Eligible participants will be entered into a drawing for a $5.00 coupon to my shop and if you complete all of my challenges this year, you will be eligible for a drawing for a $20 coupon to my shop. The winner will be notified by a private message (conversation) here in the Oscraps forum — the week after the challenge ends. Entries may be featured on the Oscraps blog, my website, in my newsletter, or on other social media.
To be eligible for the $5.00 coupon drawing:
You can earn one
additional
entry into the coupon drawing for using any of the following products on your page (
freebies do not count
towards these additional entries). So if you use all three on your page, you'd earn three extra entries into the drawing.
The

Spring Bundle,

which is my April featured product and is

on sale for 65%

off during April. Individual packs are available for 30% off.​
To be eligible for the $20.00 coupon drawing after the year's challenges are completed, you'll need to
track your challenge entries in this thread.
Don't forget to
subscribe to my newsletter,
you'll get loads of freebies and exclusive coupons, along with a heads up on my new releases and tutorials.
I can't wait to see what you come up with for my challenge!
---------------​
Adding a linked layout from the Gallery to a thread:
Upload your layout to the gallery first. In your forum post click the Gallery Embed icon (little camera).
This will open your gallery, simply click on the layout you require, then scroll down to the bottom of the screen and click the Continue button. Your linked layout is now in your post, the image will appear once you have clicked the Post Reply button.
We also have a video tutorial if you prefer.
Last edited: