​
Lots of great pages for my February Challenge! Thanks so much to everyone who participated — and I hope to see you again for the
March challenge, which is here
! Don't forget to update my challenge tracking thread, with layout link to qualify for the $20.00 coupon at the end of the year! You can
find the challenge tracking thread here
.
Please help me congratulate, Jean aka
@scrap-genie
- who won this month's $5.00 coupon challenge drawing! Jean, check your PM's (conversations) for your coupon code.
Here's Jean's VERY creative page - if you haven't already done so, please click on the image to leave her some love in the gallery!
Accepting the realities of aging bones is my topic of the month. While the journaling isn't...
___________________​
If this is your first time joining me for a challenge — welcome! I'm so happy you're here! If you've joined my challenges in the past, welcome back! This month's challenge runs
through February 28th.
It's hard for me to believe, but in two weeks, I'll turn 67. While I realize that 60 is the new 40 (
), it does shock the mind to be so close to 70! Definitely, the body parts don't behave the way they used to — and when I first noticed that "crepe" look on my forearm, I nearly passed out! Lol! And Sigh. On the upside though, I do find that I am less and less concerned about (so many) things that used to bother me. So that's what my page is about. The journaling reads:
As I near my 67th birthday. I've started to reflect on what is important to me and what, in the grand scheme of things REALLY matters. Does the shape and size of my body REALLY matter? Do my incredibly thick glasses REALLY matter? Does my flat, fine hair REALLY matter? Does it REALLY matter what others think? How much precious time have I wasted agonizing over things that don't REALLY matter? Am I a good person? Do I try my best? Do I support my family and friends? Do I help others whenever possible? Do I live the values that are important to me? In the end, THOSE things matter.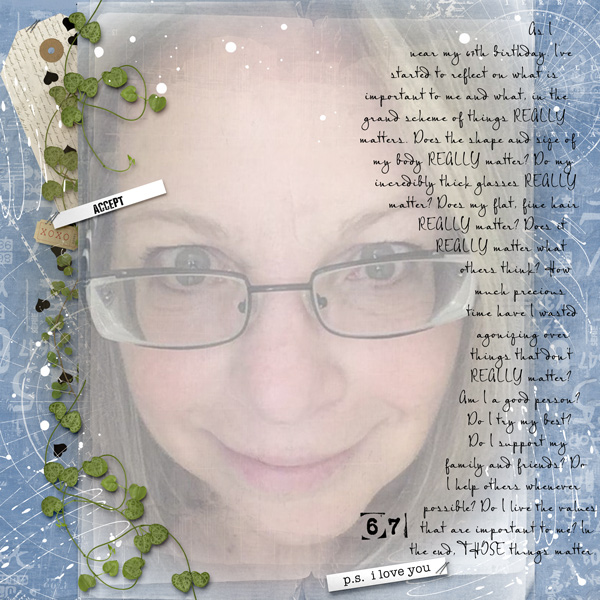 This page is about finally coming to terms with me. The journaling reads:

"As I near my 67th...
My page uses my
PS I Love You, which is my featured collection
for February (the full collection is 55% off and individual packs are 30% off) It also uses one of the "story-starter" prompts from this month's
challenge freebie
.
I also used some of my mark-making brushes (they are in white on the page) — they are a great way to add texture and interest to your page, especially if you want to achieve a more art journaling or mixed media look.
I've put together a special
Sampler Set 02 of 9 brushes — exclusively for you — for only $2.99
—
during this Challenge period.
The Sampler Set is taken from
four of my brush sets which are on sale for 40% off during February 2022
— so if you like the samples, you may want to grab the full sets (they are linked in the Sampler product description).
BUT
this Sampler Set 02 is
not visible in my shop
until next month and this $2.99 price is
just for you
during February
.
Challenge Rules​
Eligible participants will be entered into a drawing for a $5.00 coupon to my shop —
AND new this year
— if you complete all of my challenges this year, you will be eligible for a drawing for a $20 coupon to my shop. The winner will be notified by a private message (conversation) here in the Oscraps forum — the week after the challenge ends. Entries may be featured on the Oscraps blog, my website, in my newsletter, or other social media.
To be eligible for the $5.00 coupon drawing:
To be eligible for the $20.00 coupon
drawing after the year's challenges are completed, you'll need to
track your challenge entries in this thread.
Don't forget to
subscribe to my newsletter
,
you'll get loads of freebies and exclusive coupons, along with a heads up on my new releases and tutorials.
I can't wait to see what you come up with for my challenge!
---------------​
Adding a linked layout from the Gallery to a thread:
Upload your layout to the gallery first. In your forum post click the Gallery Embed icon (little camera).
This will open your gallery, simply click on the layout you require, then scroll down to the bottom of the screen and click the Continue button. Your linked layout is now in your post, the image will appear once you have clicked the Post Reply button.
We also have a video tutorial if you prefer.