Hello hello! Cynthia here today with our monthly 1 Kit, 5 (or so) ways post! This month we chose to use Sabrina's amazing Every Minute kit. With bold colors and patterns, amazing word art, the cutest photo pockets and awesome journaling cards, Every Minute was the perfect kit to feature.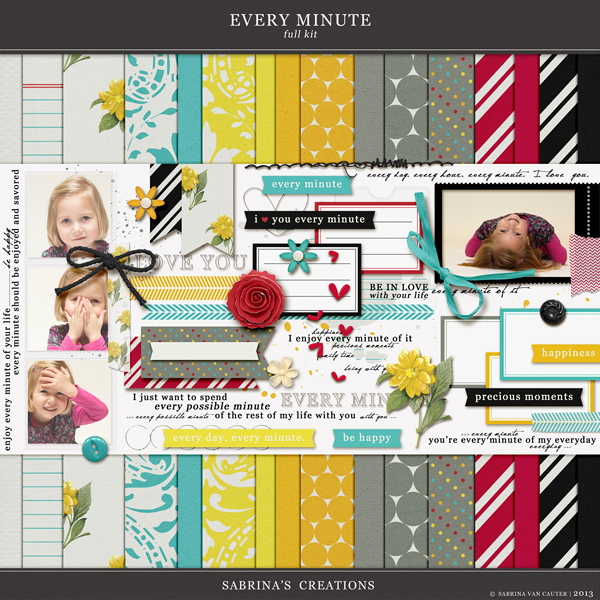 Let's see what the team came up with, and you'll see how very versatile this kit is:
Diane created an amazing page with her vacation photos, and this is what she had to say about her creative process:
As with other kits used for this series, I looked at the colors in the kit, then glanced through my vacation pictures. I love this picture of my daughter I Eze, with that touch of red and yellow just like in the kit. Then began the layering of papers and elements to achieve the look I wanted. I love those little postage stamp frames! I added several versions of the yellow flowers to tie it all together.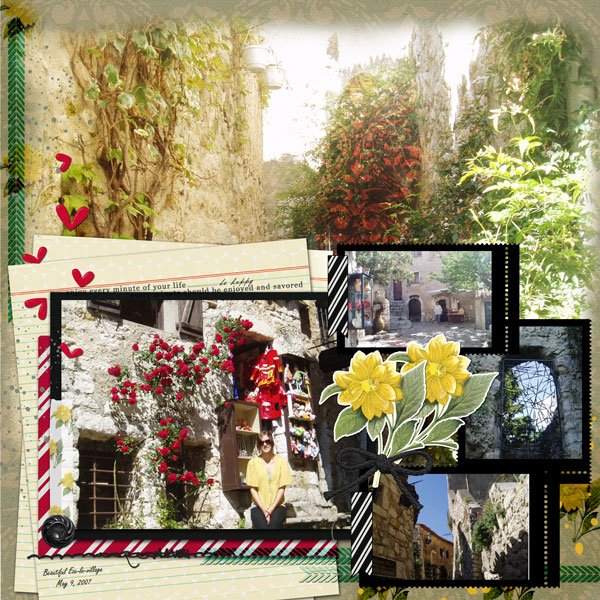 Marie (Dumpty) created a minimalist jewel:
This kit talks beautifully of love and with the blog feature being so close to our 15th anniversary (we have a two day anniversary on the 24th and 25th of April), I knew who I wanted this page to be about. Then I picked what felt like a masculine subset of the colour palette, focusing on grey and black with accents of red, and of course aimed at a white space LO, not forgetting to take full advantage of the beautiful wordarts to convey my message.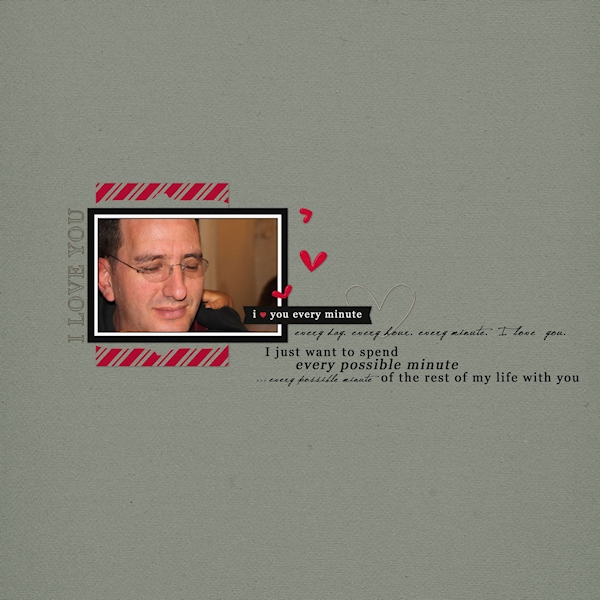 Linda created the most amazing big photo page, I HAVE to lift this!
I just loved the colors in this kit and so I went looking for the right photo to match, and there is was…the blue in his shirt was perfect, not to mention that fakish smile of his..HAHA!! And the theme was great, because I do love every minute I get to spend with this little guy. And as usualy, I took up about the whole page with my photo.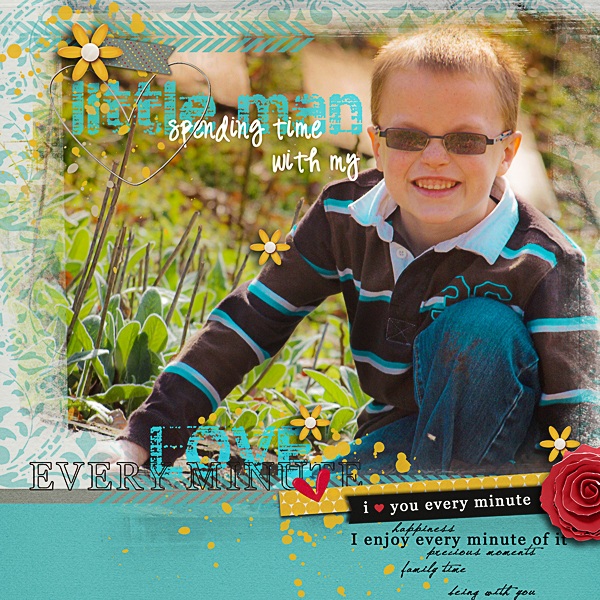 Trista also created a white-space page, I'm so in awe of pages like this which convey so much feeling with only a few perfectly placed elements:
I knew right after browsing through the goodies in this kit that I wanted to use the I love you word strip, the paint and the stitches, so the first thing I did was drag those things onto the canvas. Once I duplicated and places the paint and stitches, I clipped and tucked the wordstrip into place. Next I placed the photo in the center of the canvas and layered the small frame on top. I cropped the photo to fit and then added a few finishing touches. Finally I had the task of choosing a bg paper. This was the hardest for me as I liked so many of them from the kit, it was very hard to choose, but I decided on the notepaper as it went best with the photo of my son.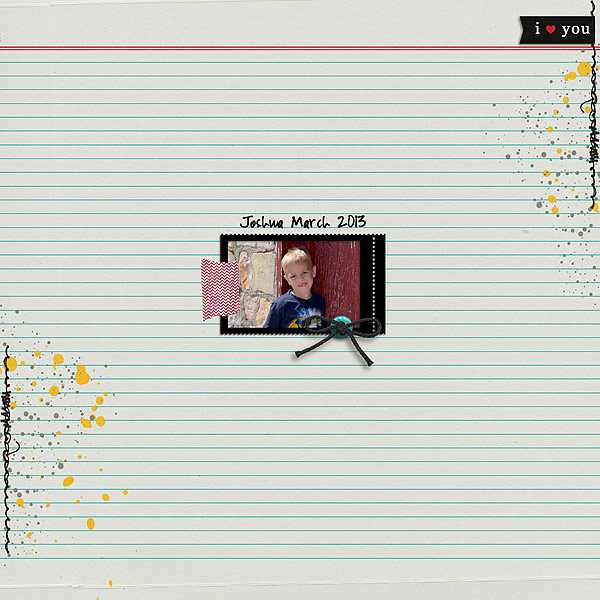 And from yours truly, I was drawn immediately to the gorgeous damask pattern and those plastic pockets. I usually fill them with a ton of elements, but this time I went for a more subdued approach as I wanted to let the paper and photo shine.I added a few touches like the banners on top and the  paint splatters so I could add a bit more visual interest.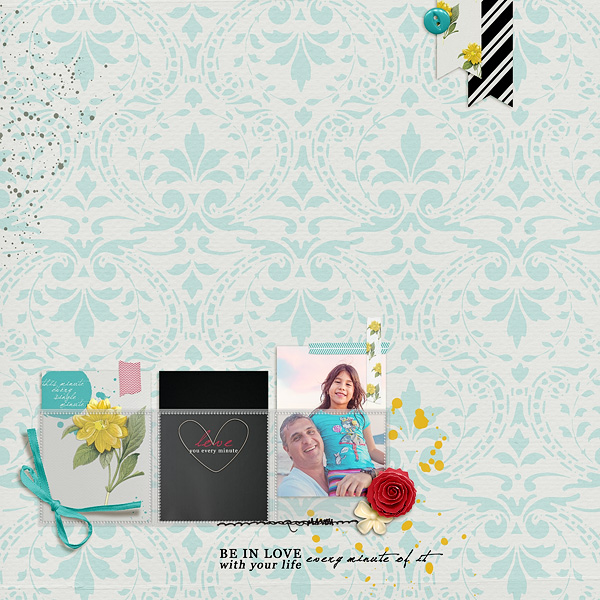 I hope you liked this month's 1 Kit 5 (or so) Ways post, we sure had fun creating with this kit! If you play along, don't forget to link us up in the comments, we love to see your creations!
See you next time and have a wonderful weekend!