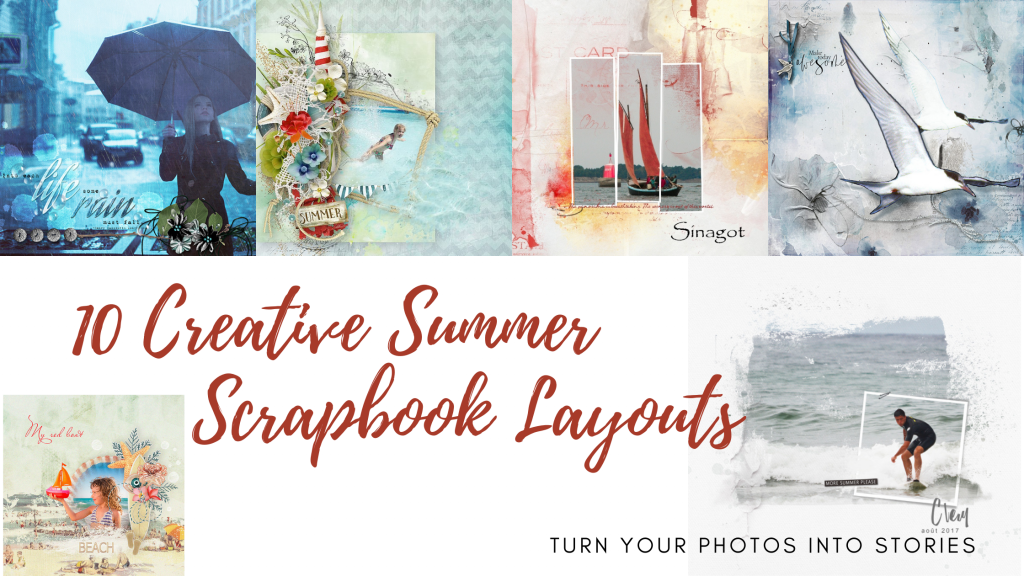 Summer is almost over. That means the kids are headed back to school or in some cases OFF to school. We have THREE grandchildren starting college this year. It's exciting to see them head off to begin a new chapter in their life but it's also hard to watch our children struggle with an empty nest.
The summer of 2021 isn't officially "back to normal" but it was certainly better than the summer of 2020. Families were able to get outside and even do a bit of traveling. Family vacations were always fun when we were growing up but very different than what our grandkids are used to.
Our road trips consisted of a cooler of soft drinks, a loaf of bread, and a pack of lunch meat. We stopped at roadside parks and ate our plain Jane sandwiches on the park benches. If we got bored we had colored or played I spy. I remember our first road trip after I got an Etch-A-Sketch. Woo Hoo! Who knew that someday we would be able to surf the internet and play thousands of games FROM OUR CAR! Times have certainly changed.
I love the technology that allows us to take a photo and be able to see it immediately but that instant gratification also comes at a price. Back in the day, we had to wait until we got home from our trip to have our film developed. When the photos came in, we had friends and family get together and spent an afternoon or evening going through the photos and telling the stories of our trip. There was always good food and an abundance of laughter but looking back, my absolute favorite part of those vacation parties was the storytelling.
One story always lead to another and before we knew it, we were dragging out shoe boxes or photo albums from previous years and reminiscing. Looking back, I realize those memories are some of my best memories.
As technology continues to evolve, I hope we can find ways to continue to celebrate the memories even when the photos have made their way to the back of our camera roll.
With summer coming to a close, this is a great time to scrap your photos and tell your stories. Set aside an afternoon and get the family together to take a trip down memory lane. After all, the best part of life is living it with those you love.
If you're just ready to scrap your summer photos, we've got some great ideas to help you get started. The Cheery O's traveled back in time and chose some of their favorite summer layouts from 2019. Whether you spent your summer vacation enjoying the sand and sea or a meadow of green, we think you'll love these summer digital scrapbook pages.
Best Summer Digital Scrapbook Layouts From 2019
Make Today Awesome by scrap-genie:
Cheery O Favorite: wombat146
I love the extraction on this wonderful piece of art. The dark outline makes the tern really stand out and the inclusion of another one in the background gives the page so much movement! I can just about see them flying around out at sea on a summer's day! Stunning work.
Products used: Memories of Summer by Florju Designs;
ArtPlay Palette Coolth by Anna Aspnes;
Coolth WordART Mix No. 1 by Anna Aspnes;
ArtPlay Palette Mistletoe by Anna Aspnes;
Oscraps Collab All About Me
On The Beach by Ludmila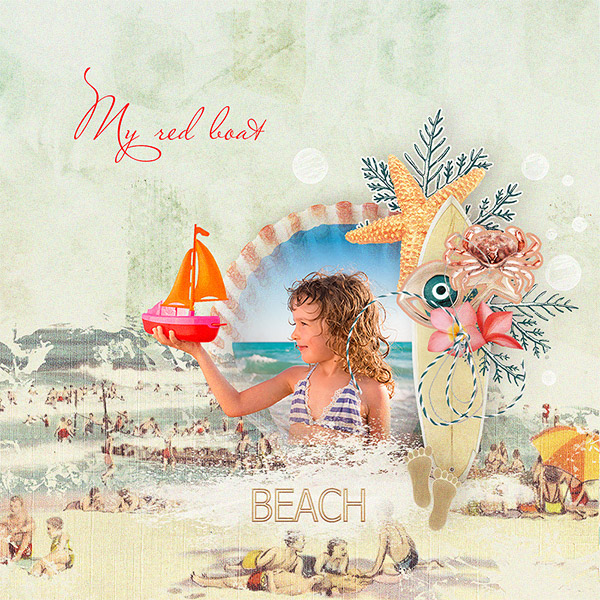 Cheery O Favorite: BrightEyes
I chose this LO because I love the out-of-bounds photo with her holding the colorful boat. The large surfboard and starfish cluster on the other side of the photo draws the eye right to the photo as a focal point of the page. The addition of the beach scene elements in a lower opacity in the bottom part of the page sets the scene without drawing the eye away from the focal point.
Product used: A Day Outside: On the Beach – June Edition by Mediterranka Design
We love summer by Bryanna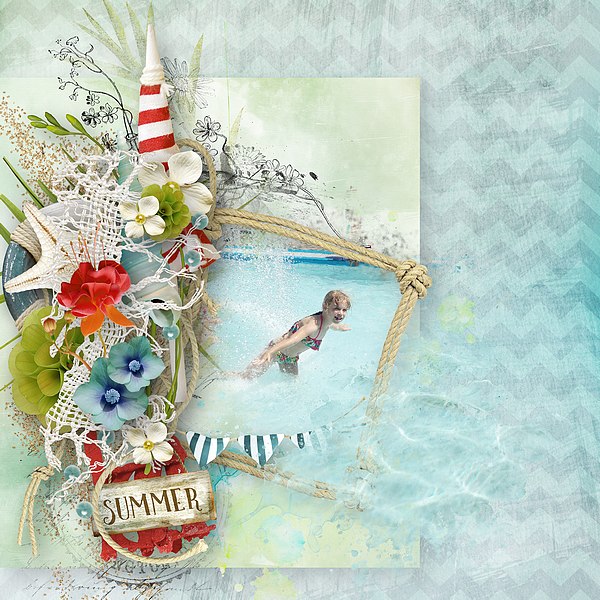 Cheery O Favorite: marijke
I love the photo of the girl who is ready to jump out of the frame into the water. The cluster anchoring the photo is gorgeous with a great variety of elements and colors.
Product used: We Love Summer Collection by Palvinka Designs
Sinagot by martine29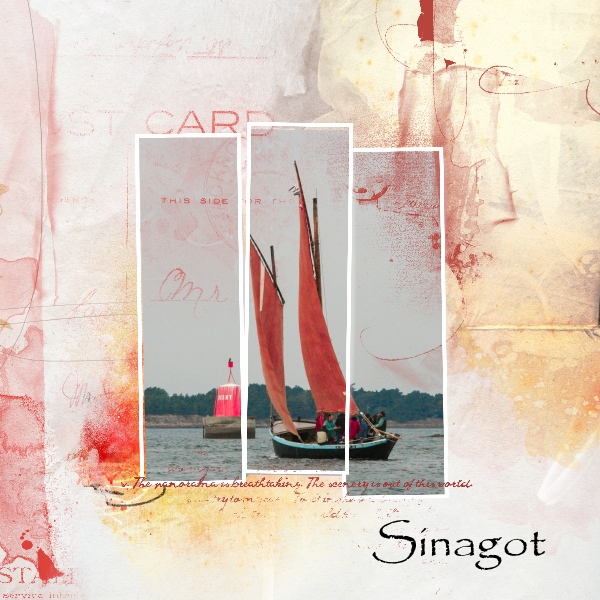 Cheery O Favorite: vickyday
I love the colors and the multi-framing of the sailboat. I love sailboats which is what drew my attention to this layout!
Products used by Anna Aspnes
Texture and frame: ArtPlay Palette Canyon
Brushes: ArtPlay Palette Arrive
Rain by Capmum
Cheery O Favorite: tanteva
Summer can't be sunshine all the time. We need some rain as well. I really love a nice summer rain, and this layout really show how fantastic rain can be. Love the big photo, and the added elements. Clean and simple, yet full of life.
Products used: Rain Dance by AFT Designs
Clément Surf by Loulou31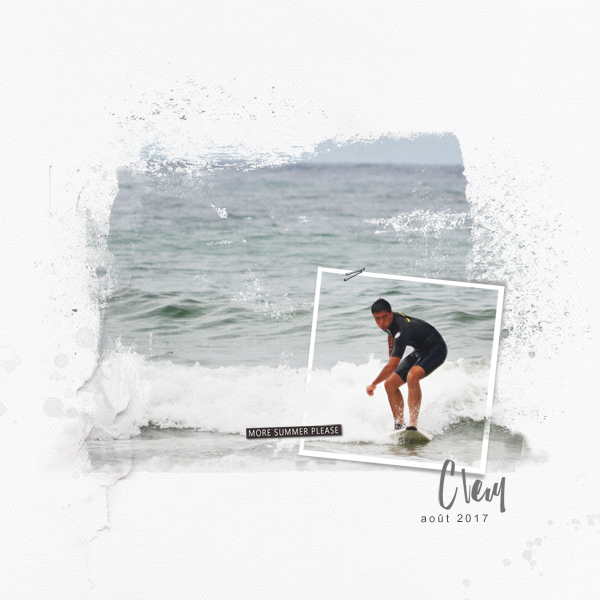 Cheery O Favorite: timounette
For me, summer rhymes with sea, sun and heat. And this summer I have missed all of this…. That's why I choose this page. I admire the clean design with a white background, the framing around the surfer; and the masking.
Product used: Mask from Jopke; ArtPlay Palette Meadow by Anna Aspnes – and retired kit Frueling by Anna Aspnes
Sunny Days by Caapmun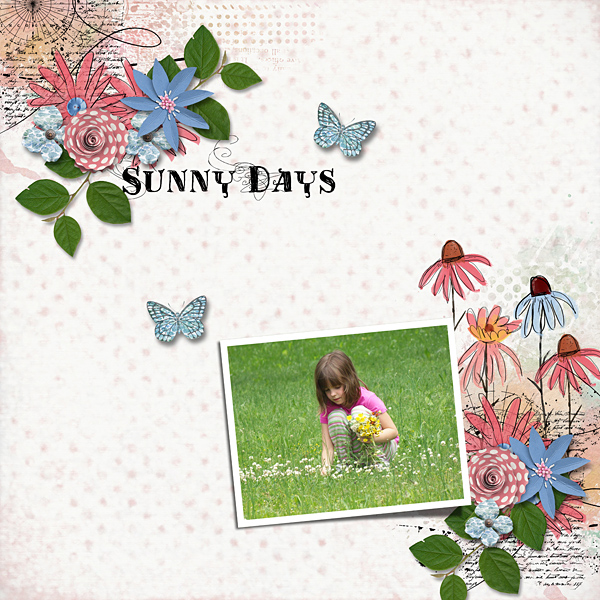 Cheery O Favorite: scribler
The layout has great element clustering and I think that photo is the epitome of childhood in Summertime.
Product used: Summer-ish Take 2 Collection from Vicki Robinson
Life is Sweet by DeannaJ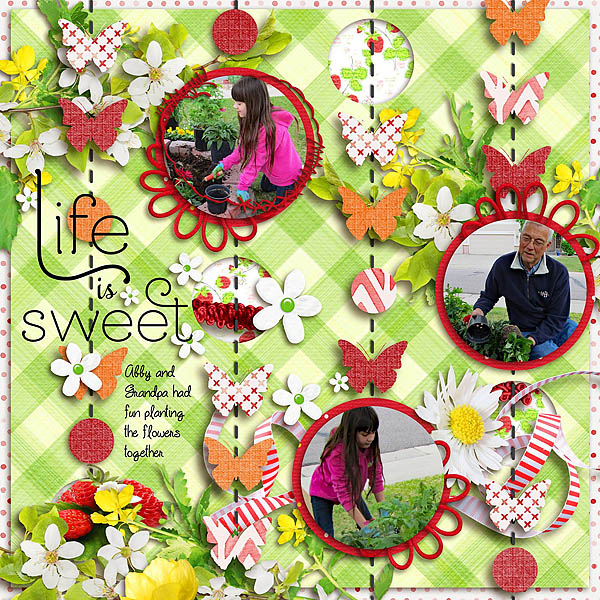 Cheery O Favorite: CheryIndesigns
Product used: Strawberry Lemonade by Karen Shultz Designs
Live Big, Breathe Deep by Lor: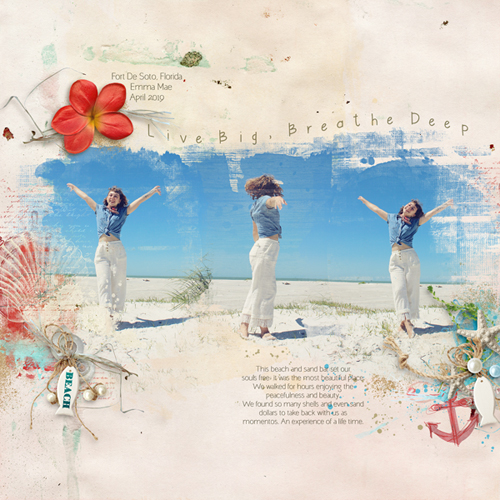 Cheery O Favorite: CheryIndesigns
This zestful layout is a true feast for the eyes! The pops of red, the fun way the title follows the curve of the photomasks, the scatters and stamps in the element clusters… a pure delight, and a perfect example of a summer page.
Products used: Enjoy Sunny Days Collection by et designs
Anchors Aweigh by ChrissyC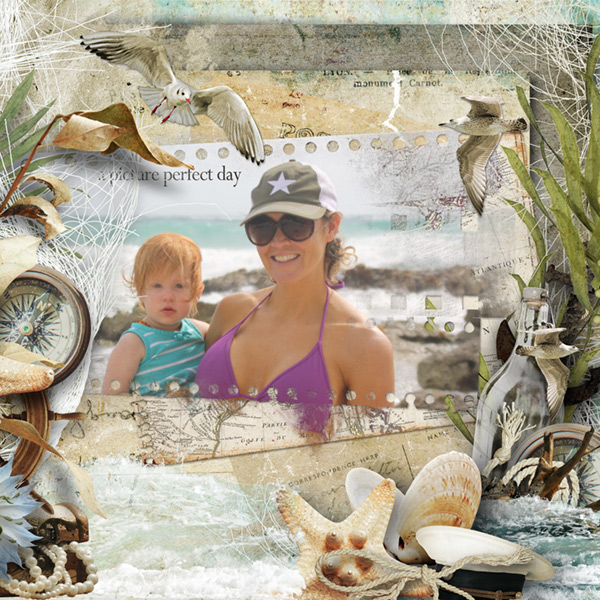 Cheery O Favorite: wombat146
The sweet photo first caught my attention then saw all the gorgeous details around the photo! The shells and birds just screamed Summer to me, absolutely beautiful layout.
Product used: Anchors Aweigh by Manu Design Studio
Fun in the Sun by kandib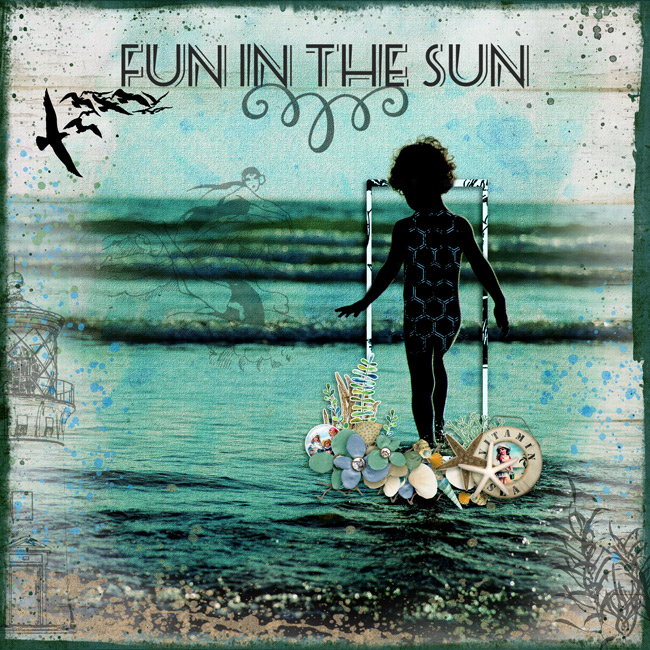 Cheery O Favorite: faerywings
While the large, blended photo initially caught my eye, I really enjoyed looking at the doodles that were hidden in the waves. I see two more swimmers and a lighthouse, how about you?
Products used: Vitamin Sea Collection by Vicki Robinson
Photo via Pixabay…
Summer by Caapmum: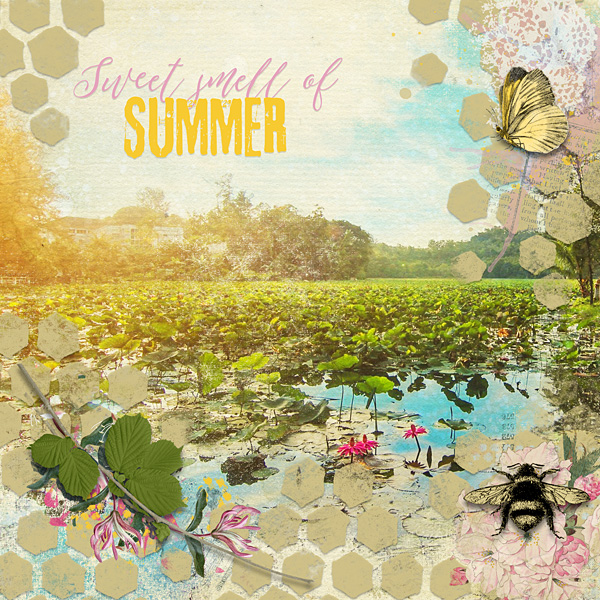 Cheery O Favorite: scrapmemories
The layout caught my eye with the creative way to use the hexagon shapes to frame this perfect summer scene. The color of them matches the edges of the photo making it a great transition from the elements. The delicate use of embellishments creates a lovely touch to an already beautiful photo. Makes me wish I was sitting on the water's edge looking out.
Products used: The Sweet Smell of Summer by On A Whimsical Adventure
Turn Your Summer Photos Into Family Memories
We hope these scrapbook pages inspire you to get your summer photos scrapped in a flash! Got lots of photos? Scrap your photos even faster with one of our template packs or customizable photo albums. Need a different color or style? There are literally hundreds of options in our Summer Digital Scrapbooking Category.
Whatever you create, be sure to add your layouts to the Oscraps Gallery so we can all leave you some love.
We would LOVE to hear how you spent your summer road trips or vacations. Did your family haul a cooler along or did you travel in style?
Leave a comment with your story and you'll be ENTERED TO WIN a coupon for $5 off your next purchase. Contest ends Sept 1, 2021 at midnight CST.